Grid screen is a large spacing LED display screen designed to meet the display needs of large areas such as real estate projects, commercial centers, glass curtain walls, hotels, and high-rise building facades, while also taking into account the characteristics of light, thin, and transparent. It is a spliced unit module composed of LED point light source, PC buckle base, steel wire, and other components. The pixel distance of the grid screen ranges from P166.7 to P33.3mm, and through unit module splicing, it is easy to achieve a super large display area from tens of square meters to tens of thousands of square meters.
Mainly used in large-scale building facades and glass curtain walls, large-scale stage activities, creative design and cultural tourism displays, night dining and shopping, cultural performances, tourism and sightseeing, leisure and entertainment, sports and fitness, exhibitions and sales, and other scenarios. We usually recommend suitable LED grid screens to customers based on the installation size, installation height, viewing distance, brightness requirements, and project effect of the project.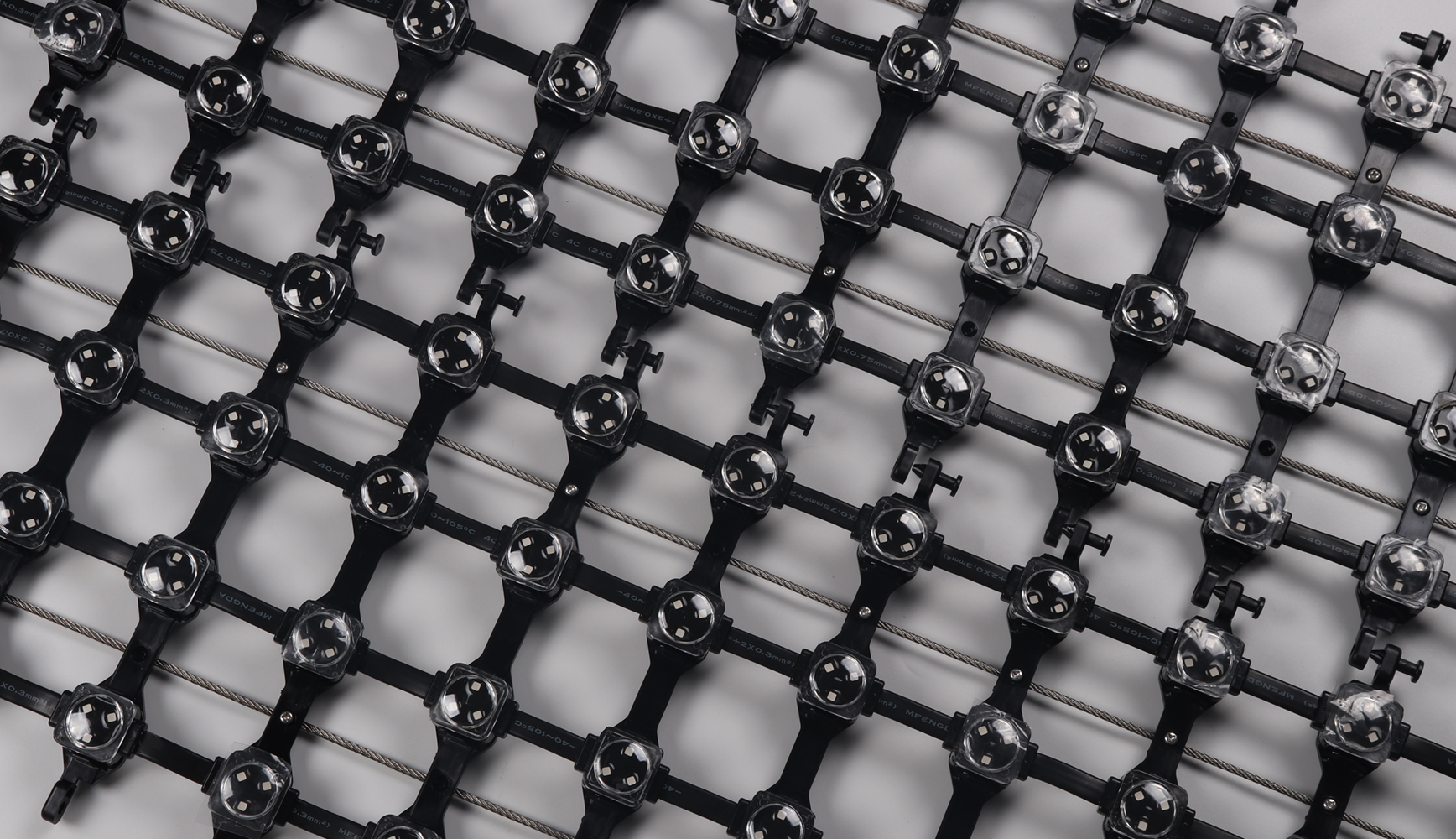 Our point light source is equipped with imported international brand wafers and Kerui lamp beads, with stable brightness, pure color, and low light attenuation. The characteristic of wafer chips is to produce chips without packaging, and the brand specificity determines its excellent performance. The coverage range of wafers is wider, covering most chip sizes of small and high-power LED beads. The brand has a large influence, and the average performance of lumens, indicators, and other indicators is very good. Chips and finished lamp beads are laid together, and often they are not necessarily good due to the packaging process of various manufacturers. For example, the selected glue, the brand of fluorescent powder, the performance of packaging machinery, the material of gold wire and bracket will all have a direct impact on the brightness and quality of the lamp beads.
Our point light source housing and bracket are made of Bayer PC material from Germany, which has excellent flame retardancy, impact resistance, and UV resistance, and will not change color for ten years.
Bayer's PC is an international brand of polycarbonate produced by Bayer in Germany. Due to the unique structure of polycarbonate, it has become the fastest-growing among the five major engineering plastics in the world General engineering plastics. More importantly, Bayer PC plastic from Germany can be used in combination with PU. This composite technology can improve the insulation effect of the material, improve its UV resistance, and enhance its flame retardancy. It is Bayer from Germany that can truly integrate these two technologies. The world has entered an era of low-carbon and high-tech, and Bayer's PC plastic in Germany has catered to this trend and trend, taking the lead in developing PC plastic technology and achieving a perfect combination of PC and PU technology.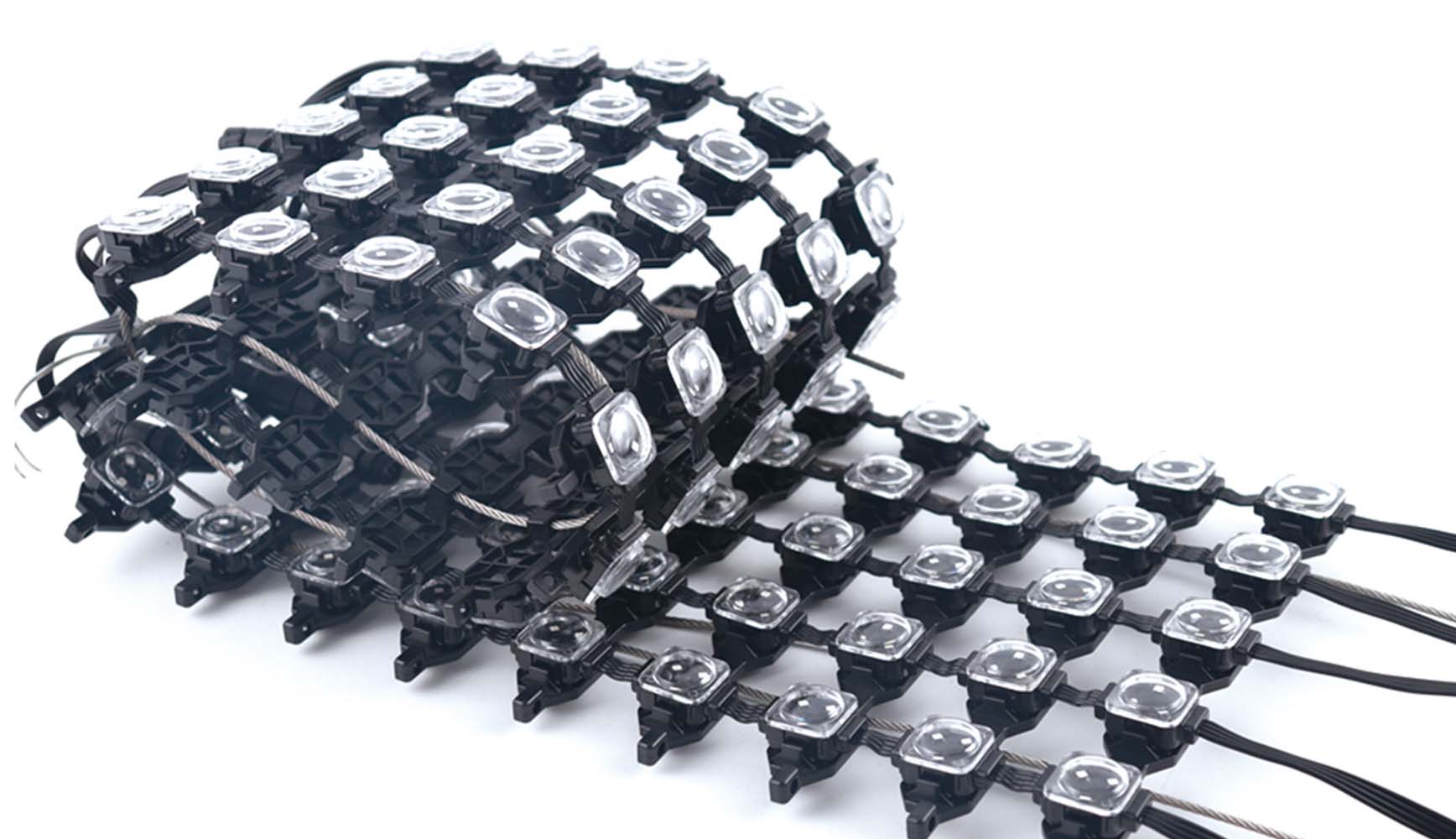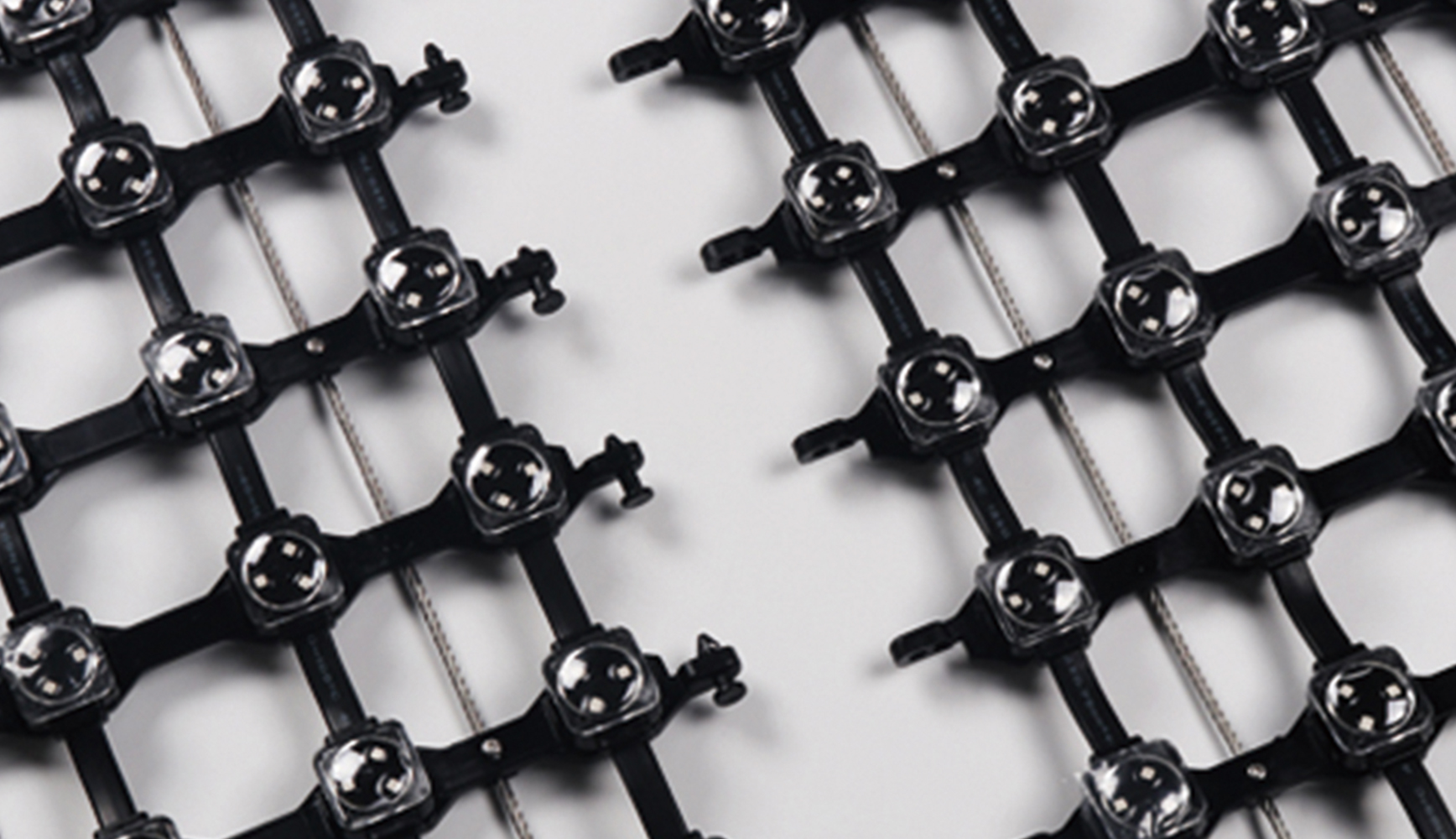 Pixel lamp features:
1. Exclusive patent appearance, small size, can be assembled and installed at will.
2. High grade imported lamp beads, high brightness and good stability.
3. The shell is made of Bayer PC material, which will not change color for ten years; the light-emitting surface adopts hemispherical design with self-cleaning function.
4. Sealed with ab synthetic resin, with strong surface hardness, impact resistance and high waterproof level.
5. Various installation methods: profile, unique cross two-way steel wire fixation or base screw installation.
6. Independent unidirectional 3M high-strength steel wire, single point can bear 20kg tensile force.
Our point light source products have a fully enclosed structure, unique seamless card slot, AB synthetic resin adhesive sealing and pouring, and the outgoing lines are connected with waterproof male and female heads, with a protection level of up to IP67. They are also frost resistant, and can work normally at temperatures as low as -40 ℃. Our company's products have undergone long-term experiments on weather resistance, acid and alkali resistance, rain and water immersion for each point light source, and their quality can definitely withstand the test. The lighting fixtures and brackets of the grid screen are separable.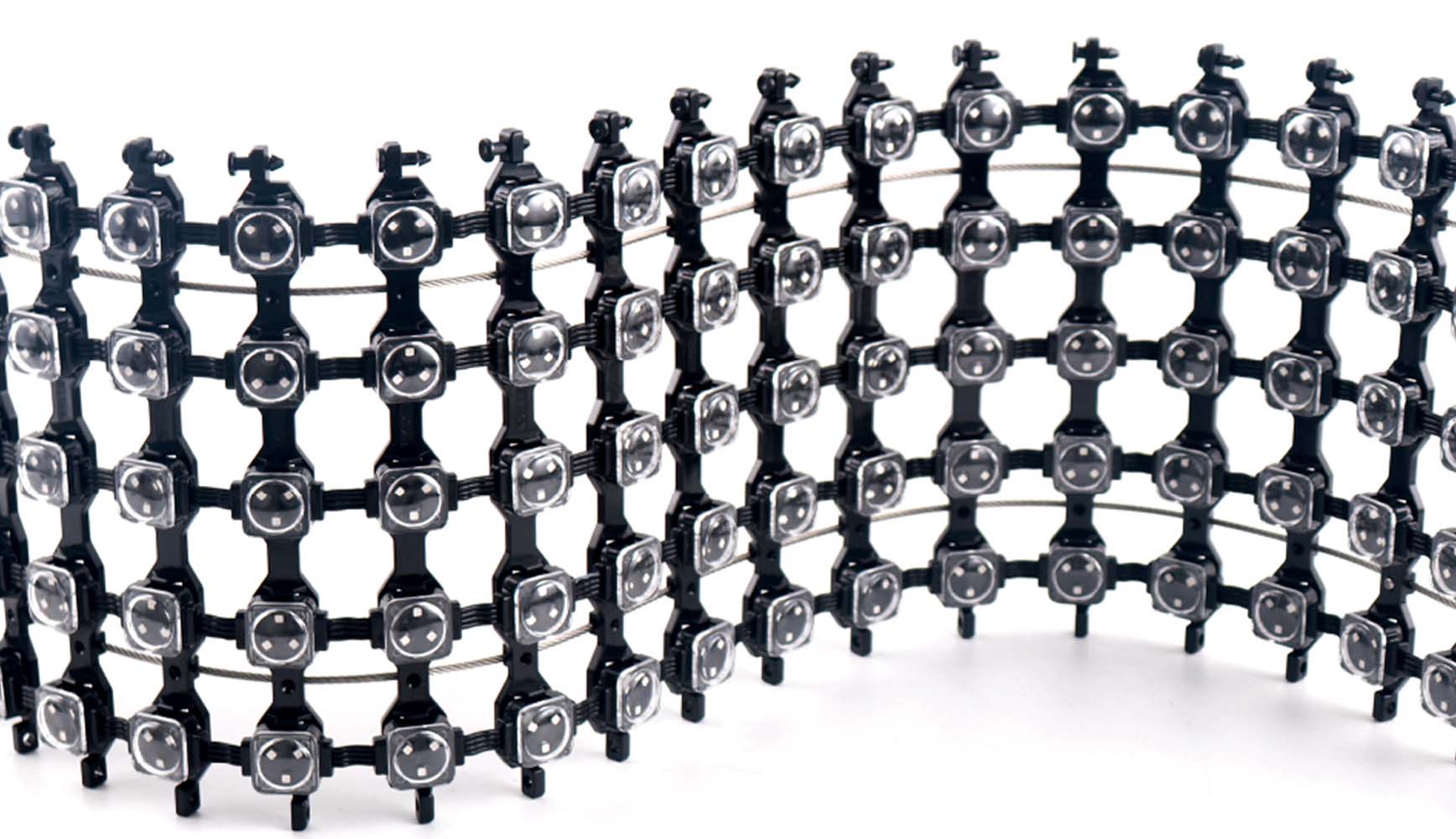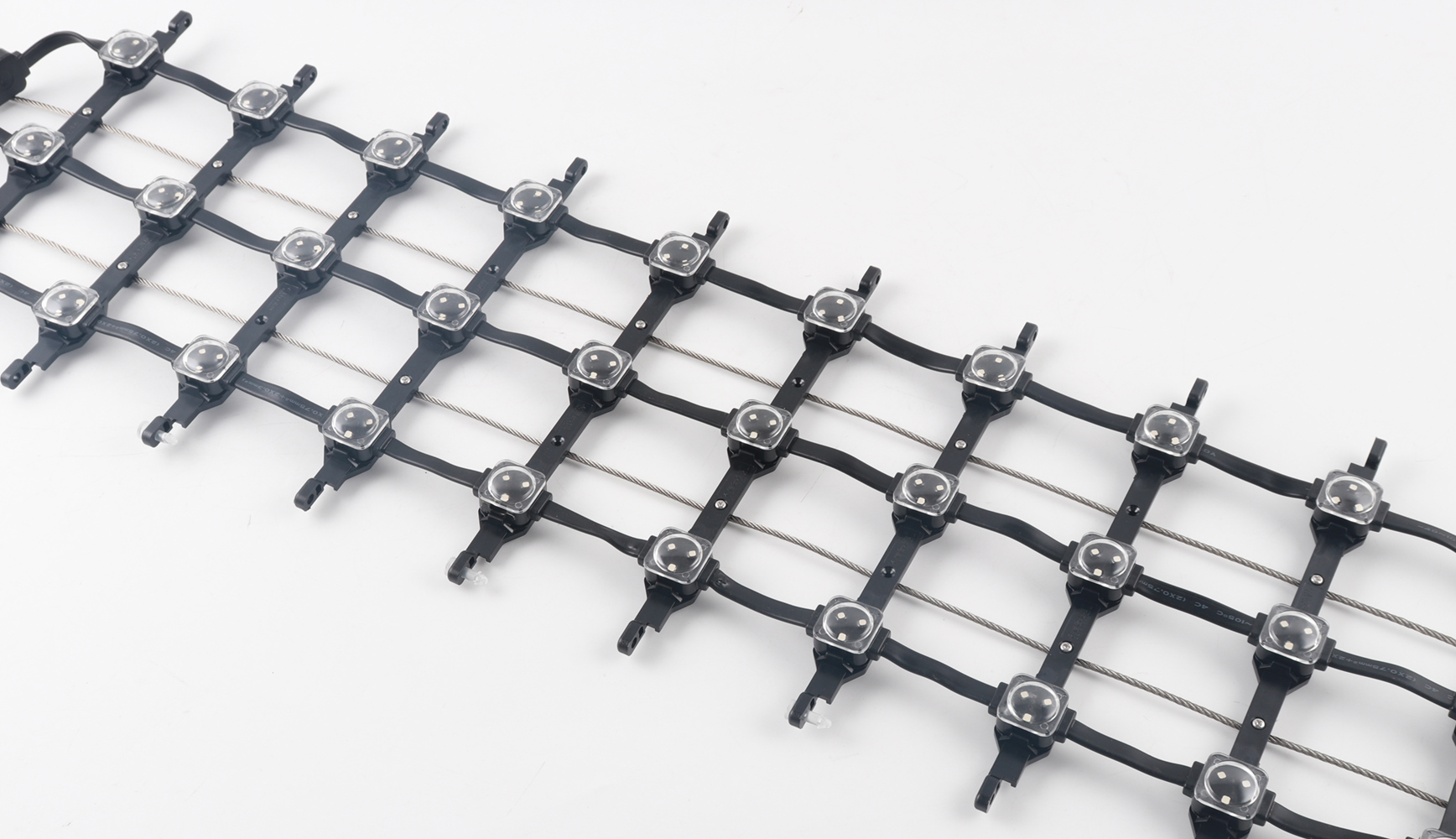 The advantages of grid screens are as follows:
1) High flatness, uniform spacing, fully restored video effect without misalignment.
2) Unique buckle base design, screw fixed base, not easy to fall off, each node can withstand 20Kg tensile force.
3) Factory produced unit screen curled packaging for shipment, on-site splicing and installation, simple and fast, which can save a lot of labor, transportation, and material costs.
4) The lamp and base are sturdy and durable, resistant to impact, tension, and UV without discoloration.
5) DC12V low-voltage power supply, waterproof connector plug-in connection, 4 buckle bases/meter, and multiple specifications of 16 * 16, 12 * 12, and 8 * 8 are available per square meter of lighting according to pixel requirements.
6) Special sealant sealing for lighting fixtures, with a protection level of IP67, suitable for indoor and outdoor use, and can be installed on curved or straight surfaces, suitable for various installation environments.